The story of Harold Hill, Marion Paroo, and all the townspeople of River City, Iowa in the classic music by Meredith Wilson's The Music Man is one of near disaster and certain redemption. What could have ended with tar and feathering, lost money, and broken dreams in fact, ended in love, forgiveness, and changed hearts and attitudes towards, well, traveling salesmen among other things.
My mother's family had a sort of cult following of "The Music Man," which consisted of her father waking the entire house up every Sunday morning by blaring 76 Trombones over the record player. They would then march around the house singing the song together. This went on for years.
This fall, my daughter has had the opportunity to audition and be cast in the full version of this musical with our local Christian Youth Theater chapter.  It's been an incredible experience for her as well as for myself as we delve into our first real "theater" experience complete with long practices on the weekends, tech week, parent committees and seven full-length performances. I've listened to the dialogue and songs over and over again, and haven't yet tired of Wells Fargo Wagon or Iowa Stubborn. 
In fact, as the dialogue and musical numbers become ingrained in my head, so does the wisdom I've gleaned from the transformation of the characters as they morph from what they were at the start of the musical to something completely different at the end:
#1 Don't be an Alarmist
Harold Hill: Mothers of River City, heed that warning before it's too late! Watch for the telltale signs of corruption! The minute your son leaves the house, does he rebuckle his knickerbockers below the knee? Is there a nicotine stain on his index finger? A dime-novel hidden in the corncrib? Is he starting to memorize jokes from Captain Billy's Whiz-Bang? Are certain words creeping into his conversation? Words like "swell" and "so's your old man"? If so my friends, ya got trouble!
Harold is indeed an excellent marketer. He creates a problem, offers a solution, and intends on giving everyone a run for their money. At the end of the day, the citizens didn't have much to fear except Harold Hill's schemes themselves; yet at the end, the driving force behind allowing their children to join the band is what gave them so much pride.
Sometimes fear inspires us to try something we never intended to, and good things happen.
#2 Seize Today
Marian Paroo: No, please, not tonight. Maybe tomorrow.
Harold Hill: Oh, my dear little librarian. You pile up enough tomorrows, and you'll find you are left with nothing but a lot of empty yesterdays. I don't know about you, but I'd like to make today worth remembering.
It's wonderful how Harold eventually wears Marion down and she realizes that putting off her own happiness is not the best thing to do.
Pause and make today count. You never know how many tomorrows you'll have and this moment right now matters the most.
#3 Don't Set Your Standards Impossibly High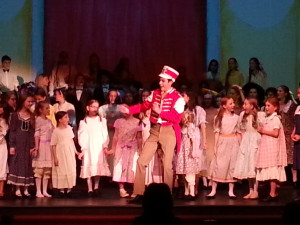 Marian Paroo: Do you think that I'd allow a common masher – ? Now, really, mama. I have my standards where men are concerned and I have no intention…
Mrs. Paroo: I know all about your standards and if you don't mind my sayin' so there's not a man alive who could hope to measure up to that blend of Paul Bunyan, Saint Pat, and Noah Webster you've concocted for yourself out of your Irish imagination, your Iowa stubbornness, and your li'berry full of books!
[On Marion's choosiness when it comes to men]
Mrs. Paroo: It's a well-known principle that if you keep the flint in one drawer and the steel in the other, you'll never strike much of a fire.
With the theme of Iowa stubbornness that runs throughout the movie, it's a wonder that Harold is even able to eventually melt the frozen heart of Marion. Thankfully, her wise mother gives her good counsel.
Follow your heart, listen to your mother, and trust that finding the right person doesn't depend on a defined check list of qualifications.
#4 Share More Generously
Citizens of River City: So what the heck? You're welcome! Join us at the picnic! You can eat your fill of all the food you bring yourself.
The dichotomy of the Iowa Stubborn scene where the entire town is gleefully singing about "giving Iowa a try" when in fact, the lyrics actually laud their independence, stubbornness, coldness, and lack of generosity is downright genius.
At the end of the day, being more generous, sharing from the heart, and including others in your dreams are what constitute success.
#5 Don't Run Away from Personal Risk
Harold Hill: A man can't turn tail and run just because a little personal risk is involved. What did Shakespeare say? "Cowards die a thousand deaths, the brave man… only 500"?
You've got to give Harold some credit for waltzing into town, creating a problem, offering a solution, falling in love with the coldest librarian around for miles, then coming clean, asking for forgiveness and sticking around to conduct the band even after the gig is up. He didn't turn away, and he earned Marion's respect and love – even though he had lied and she knew about it.
If we avoid personal risk, we avoid the possibility of growth.
What other life lessons have you learned from the characters within The Music Man?
[All images taken during dress rehearsals of The Music Man in Roseville, CA by Lauren Hunter.]