Studying the Bible is a wonderful practice to add to your life whether you focus on what could be the best 20 minutes of your day or a much longer in-depth study session. In recent years, a trend has emerged that combines mind mapping, bullet journaling, and sketchnoting. This trend is called Verse Mapping and it's a type of guided inductive Bible study made accessible to all through a specific style of note-taking as you study Bible verses one-by-one.
Here are the Amazon Links to Zondervan Verse Mapping Bibles and Journals in this review:
Author Kristy Cambron's Verse Mapping 101 Video
With a better understanding of  Kristy Cambron's method of Bible verse mapping, you can now explore some specialized Bibles from Zondervan, as well as, a journal from Thomas Nelson, that can help you dive deeper into this style of Bible study.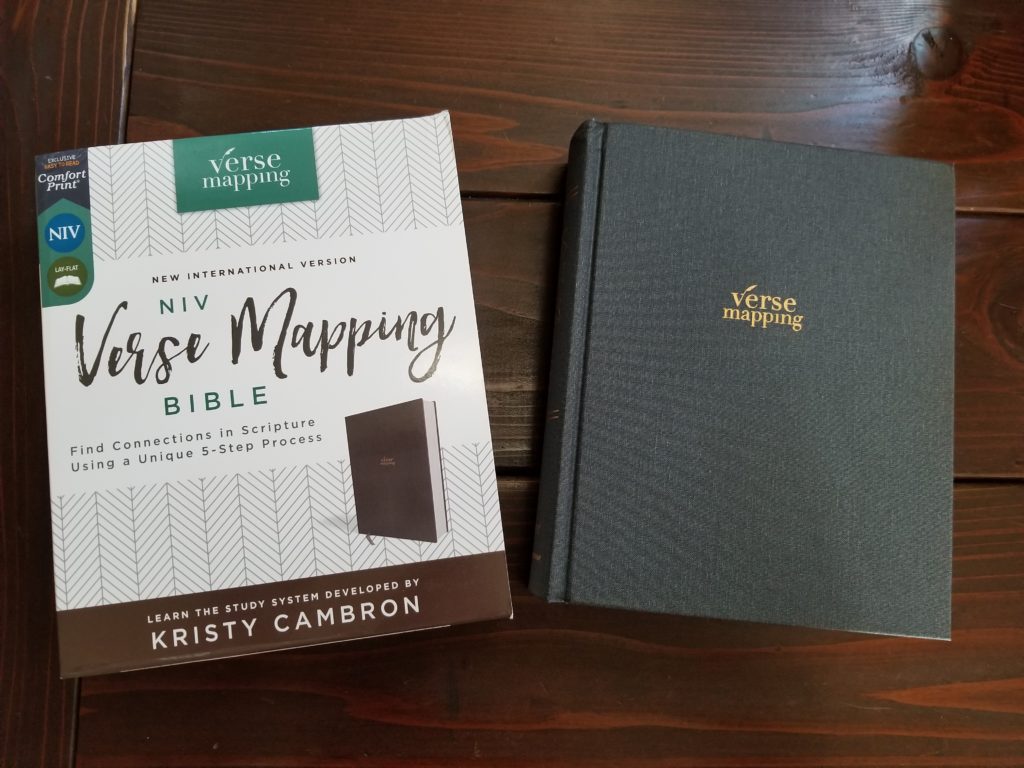 For many who like to color, use colored pencils, journal, and take creative notes (doodling was never a bad thing!), this kind of modified or guided inductive Bible study can be a great way to dive into specific scripture to reveal deep meaning.
Below is the Comfort Print hardback in grey cloth. This Bible has weight to it and stays open easily without a weighted bookmark, which is nice. The print is somewhat small, so if you're over 40 and you use readers, have them handy. Some of the verse mapping worksheet pages are pre-filled and some are blank. If you're using black ink, the ink might seep through the thin pages. It might be better to use light-colored gel pens.
The margins are wide leaving lots of room for additional notes on any page. There are some small footnotes at the bottom, but this Bible does not have cross-references or study notes. The mind is free to focus on the scriptures and journal to your heart's content. It does have a short topical index in the back. It does not have a concordance of any kind.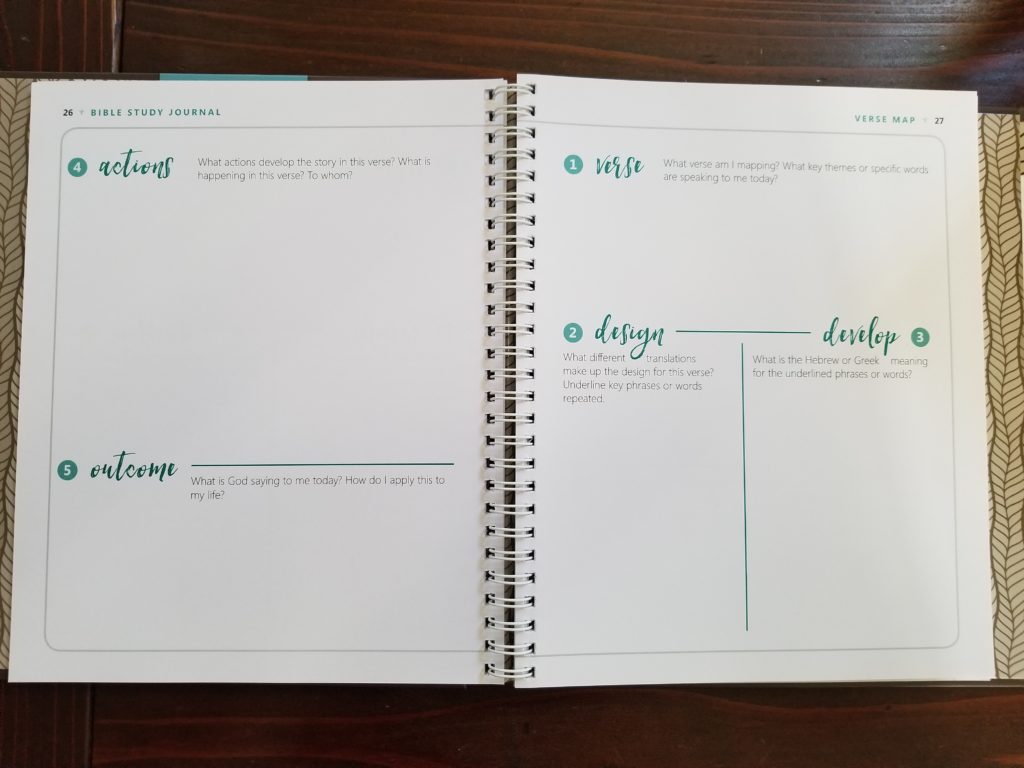 This verse mapping journal is a low-content, spiral-bound, hardback journal with crisp white pages and teal font. The cover does not fold around the back, which would have been an added perk, however, perhaps this was intentional.  The intro has a 19-page written explanation of how to verse map called "Verse Mapping 101." There are 57 journaling sections for verse mapping. For some reason, as you'll see in the image above, the book layout editor didn't really think about the correct layout. I find layout particularly important when designing something as interactive as a journal.
In the Verse Mapping Bibles which have the verse mapping worksheet all on one page, it begins with section one (verse). The way this journal lays open reveals an error. The left page has sections four and five and the right page has sections one-three. This is the kind of thing that would drive me nuts.
When you publish a book, you have to think through all the elements including how the reader will interact with your content. It needs to make visual as well as intellectual sense. It is still a lovely journal and if you're not incredibly particular like I am, this will not bother you. With this option, you can consider picking a book of the Bible and using one journal for that book. You will only be able to verse map 57 verses, but that can provide a nice overview of a shorter book of the Bible.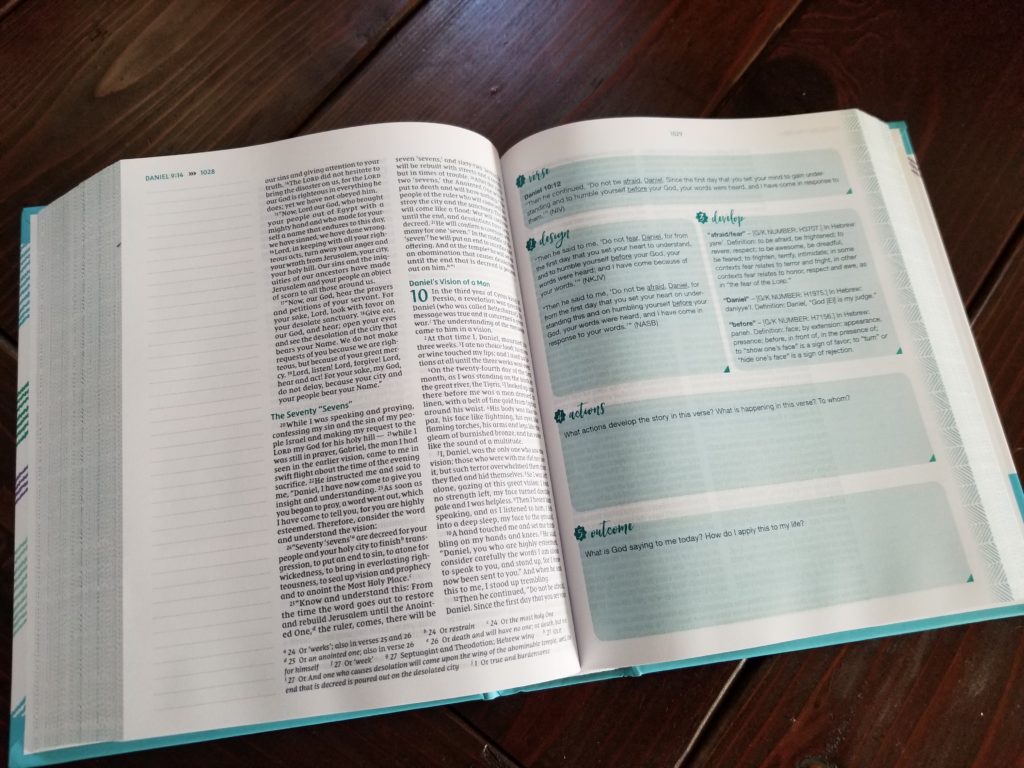 This hardback Bible for girls has a lovely cover. My eleven-year-old daughter thinks it is beautiful. Inside, the layout is very similar to the adult grey cloth comfort verse. The type is the same size and it has teal headings and teal verse mapping pages to tie in with the aesthetics of the cover. On looks alone, this option is very appealing. However, I know the visual appeal is not the only thing that matters when finding the right verse mapping option.
The hardback binding allows for the book to lay flat when open from Genesis all the way to Revelation. The margins are wide allowing for notes on each page in addition to the verse mapping worksheet pages. Again, this is not a study Bible. The hardback Bible does not have notes or cross-references but it does have a short topical index in the back. There is not a concordance of any kind and there are no obvious content changes that make it kid-friendly. Both Bibles are the New International Translation, which is a great translation for kids.
I like to teach my kids how to use a reference Bible and to interpret scripture with scripture. These Bibles would be even better if they had cross-references in their lovely wide margins. Of course, using the Bible Gateway app or a Verse Mapping PDF is a wonderful way to dive deeper into a study as you use cross-references from your mobile phone while you verse map, allowing for a more comprehensive study while still engaging within the creative outlet that verse mapping offers.