I'm excited to share my first demo recording with you today. I've written many songs over the years but never had the opportunity (or time) to record them. Thanks to amazing worship leader, mentor, and friend, Paxson Jeancake, and his in-home recording studio, The Greenhouse, 'These Feet to Run' has come to life.
If you have trouble playing this song on your iPad, you can also stream it from The Greenhouse's website here.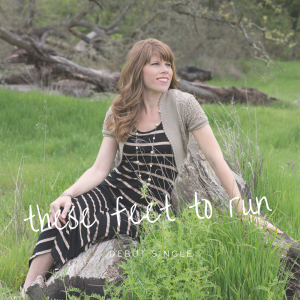 I've included the words of this song below. My inspiration was from Hebrews 12: 11-12. The irony, of course, is that I really hate to run. So this goes out to all you die-hard marathoners as well as those who merely run "the race of life."
We're all running in the same direction, aiming, hoping, striving, to be face-to-face with our Lord one day:
Now no chastening seems to be joyful for the present, but painful; nevertheless, afterward it yields the peaceable fruit of righteousness to those who have been trained by it. Therefore strengthen the hands which hang down, and the feeble knees, and make straight paths for your feet, so that what is lame may not be dislocated, but rather be healed." Hebrews 12: 11-12
Please note that this is a demo recording, which means it's a "first take" at the recording process.
These Feet to Run
Make these feet to run
My knees to be strong
Straighten my path
As I run along
Hold me up
When I can't go
Give me joy
To know what's in store
Make these feet to run, to run
Chorus:
I'll keep going and trusting you
Not sure if I'll make it through
But listening and training still
My hands hang low
My heart a heavy stone
Remind me, Lord, that
I'm never alone
You run this race
Right beside me
Carrying what's left
When I can't see
Vital you are to my faith
Timeless, true you can't be replaced
And when the journey is complete
With you, Lord, face-to-face, I'll be
[Lauren Hunter on vocals, piano, keys, and background vocals. Paxson Jeancake on acoustic, electric and bass guitar as well as sound engineering.]
[Photos taken by Tammy Stark Photography]