Writing can be a therapeutic way to process meaningful events in your life. Leaving your family's religion, or any religious group can be emotional and even traumatic. When I first wrote my story of leaving Christian Science, I found that it took lots of time to recall and process all the details and steps. I didn't just wake up one day looking for a change; in fact, there were many incremental signs in my life that Christian Science wasn't working and was actually harming my relationship with God. If you've already left Christian Science, I'd like to encourage you to write your story.
Write Your Journey and Write Your Story
In Leaving Christian Science, I share my own story of leaving this religion plus nine other stories of people like me who had become disillusioned with this religious group. In each of the 10 stories, there was a beginning, middle, and end. As the author, I followed a narrative three-act story structure to find a theme (each chapter has a different theme), then architect their stories around the central theme with supporting events.
It was a tricky process in the beginning because people tend to tell their stories chronologically and have trouble picking out the theme that weaves its way through the entire story. But as the author, I was able to listen to each storyteller, ask questions, draw into the process of their leaving Christian Science, and hear their theme as it bubbled up to the top within our interviews. By having a theme, the reader understood what the story would revolve around. I opened each chapter with a quote from Science and Health and ended with a Bible verse that contradicted the bad theology taught by Christian Science.
My second book, inspired by Leaving Christian Science, is called Write Your Journey: A Step-by-Step Guide to Write Your Life Story Fast. I believe that each person has a story to tell. I also think that each person who has left Christian Science in some way, whether they have found a new faith or not, can benefit from writing their journey of leaving. Writing can help you process this journey which most likely was not simple or easy. Each person can write their story.
You can write your story.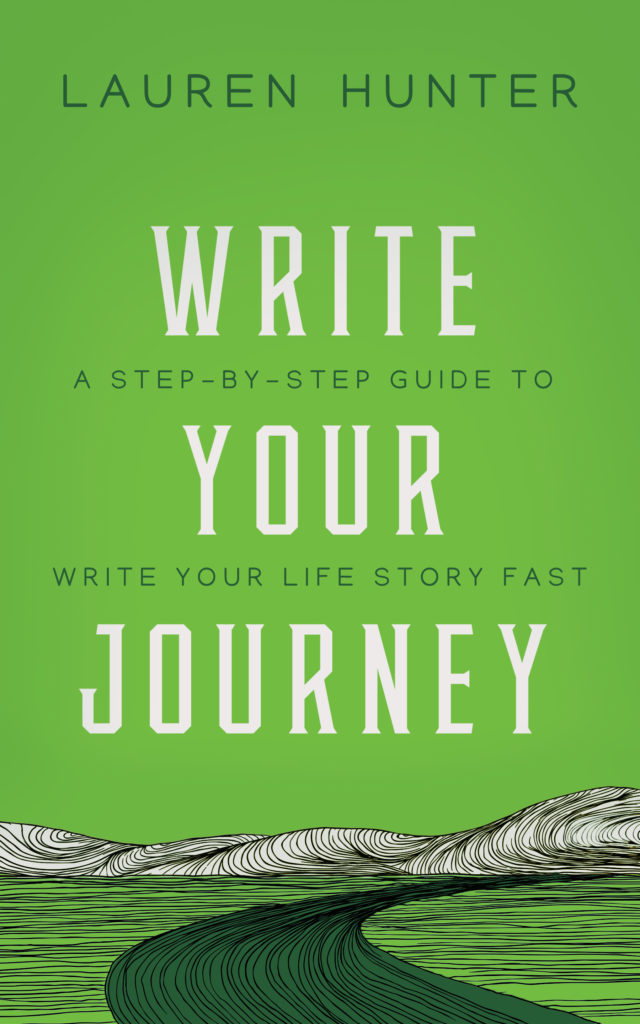 Writing Your Story Doesn't Have to be Hard
If you're not a writer, or even if you are a writer but you've never written narrative nonfiction (sorry to scare you with literary terms), writing your story does NOT have the be hard. My ninth grader is working on this type of writing in school this year so I promise if 14-year-olds can do it, so can you.
What if you had a guide that could walk you through the process of writing your faith story? I thought the same thing myself. As I researched books that would be helpful, I found that many were super long, used too much writing jargon, and didn't clearly spell out the steps that were needed to map your events, structure your story, pick a theme, then write and edit–and FINISH your story.
In Write Your Journey's seven short chapters, I share how to chart the timeline of your life events related to the story you want to tell, pick your theme, work on your voice, and put the whole story together–QUICKLY.
Are you interested in writing your story yet?
Writing Your Story Doesn't Have to Take a Long Time
A concise personal life story is best told in 3,000 words or less. Any longer and it's a novella or headed towards a full-length memoir, which is a totally different type of writing project. I find that most people need help sorting out the details of their story to highlight the best events to share as they line up with your faith story's theme and your personal voice.
Get Help and Write Your Story of How You Left Christian Science
I've found that for lots of people, it's hard to make time for a passion project or hobby. Unless you're working on your story of leaving Christian Science to build up to a longer form version such as a full memoir, it's hard to make time to work on what can seem like a difficult project.
What I do know is that people working together to learn, be guided, and receive powerful feedback can and will keep us going to start–and finish–writing our stories.
Join me.
Join Me for the Write Your Journey Fast Track Class

Former Christian Science Focus
If you are a self-starter and you don't need encouragement or support, you're a powerful lone wolf and you can skip this paragraph and go straight to Amazon to purchase Write Your Journey and begin working on your story. I'd love to read it when you're done.
But, if you're more like everyone else, having a guide to lead you through the murky waters of your mind to find the hidden signposts of your journey out of Christian Science is the way to go. Together, we'll work on your story in our very first Write Your Journey Fast Track Class.
Take the First Step to Tell Your Story of Leaving Christian Science
The Write Your Journey Fast Track Class will take you through seven lessons of my step-by-step guide to write your story in six weeks. The class will include short homework assignments prior to class, then we'll meet online for an hour each week to work through your progress and finish your story. For each class meeting time, you'll want to carve out one to two hours to work on the elements of your story. 
The Write Your Journey Fast Track Class Will Include:
A paperback copy of Write Your Journey: A Step-by-Step Guide to Write Your Life Story Fast
Pre-work PDF handouts to hit the ground running prior to the first class
Six hour-long teaching/coaching sessions including personalized support and feedback
Individual review with professional edits to your story
Suggestions for how to share your story
BONUS: Consideration for inclusion in a future anthology of leaving Christian Science stories (with your permission).
The cost for this six-week class, which will be taught live by me, Lauren Hunter, is $299.* **
* We'll be capping this initial class offering at six participants, so space is limited. 
** Class will tentatively begin the week of September 12 and run for six weeks. 
Please take a moment to fill out this form with your interest level:
I can't wait to connect with you to learn more about your unique story of leaving Christian Science and your faith journey!