Few things in life can fully capture the impact a loved one can have on us. For me, my grandparents held a very special place in my heart as they were instrumental in my life from the time I was born. While both my grandfathers passed away many years ago, the first of my two cherished grandmothers passed away last week.
I walk the line in my emotions of being so grateful to have so many wonderful years with her (91) and wishing there were more years to be had. My dearest Lala, you ran the race and finished well–with grace, kindness, and a sincere love for others. I already miss you more than you will ever know.
Gift of You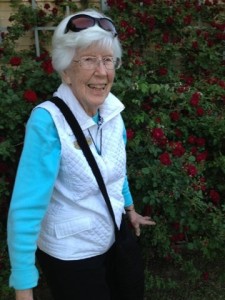 These are the last days;
there are no more to come.
Only moments to look back on
and cherish, sweetly, what was.
The tender touch and loving spoken word–
the utmost care and thoughtful note;
the life well-lived speaks for itself
through those well-loved and left behind.
The sadness will fade, in time, yet
the memories will remain fresh;
the way you touched my life,
the times you held me close
and shared your deepest thoughts.
These are the last days–
yet, I will remember you
in my childhood eye;
the way in which I look back
and see all that I have become–
in part because of who you've been to me.
Nothing can subtract
from what you have added;
nothing can compare
with the joy of your touch and voice.
I already feel the longing,
but know now that you're free;
each moment,
each day you were here with us–
a gift.