I had been counting my days, prepared for things to change as other moms had cautioned me. I loaded my four kids in the car, the school day before us.
It was the last year they would all be at the same educational institution–elementary bliss from fifth, to third, and down to kindergarten and preschool. My oldest, a fifth-grader, rode in the passenger seat, nearing 11 years old. I parked, said goodbye to him, and leaned forward for a hug and kiss. His friends gathered nearby. Then came the brushoff with a head turn as he opened the car door, "Bye mom, see ya later."
[bctt tweet="In that one moment, all warnings I had been given rang true: one day, your boy will shift and start to pull away." username="@laurenhhunter"]
In that one moment, all warnings I had been given rang true: one day, your boy will shift and start to pull away. It's necessary for him to grown and become a man. Other wiser parents who had gone before me had shared that when the growth and maturation from boy to man takes off, I should hang on and try to savor the time.
This shift from boy to man would be subtle, gradual, even elusive. And more than my son's shift, my evolution was occurring from a mom of 'littles' to a mom of older kids. Nothing I could do would stop this progression.
The Shift from Baby to Toddler
This particular son was practically glued to me for the first five years of his life. He came into this world with some kind of fierce high level of need that I was unprepared for. While still in the hospital, day two, the screaming along with frenzied, desperate 60-minute long nursing sessions began.
The first few years were a blur as I did everything I could to meet his incredibly high needs, taking flak from close family along the way when the 'crying it out' method didn't work. It was the only thing I could do to survive. Attachment parenting and the family bed saved my sanity. After a year, he finally started sleeping regularly and going to daddy without too much grief.
The Shift into Adolescence
And here this child was just ten years later, careening into adolescence, rebuffing me like some stranger. Although I had tried to anticipate what things might look like as he grew, nothing would prepare me for the first time my child no longer needed my hug goodbye. Or my kisses. While he was fine with affection in private, and still is on occasion, I shed a few tears that morning all the while knowing it was just the beginning of what would be a downward (okay downward for me) trajectory into manhood.
Some moms seem to have an easier time with older kids, some with younger. Either way, allowing your children to grow and separate—both in their physicalness and in their hearts—is so vital. And so very difficult. I didn't have a brother, so I lean on my husband to help me notice the cues and prepare in advance. If it were up to me, I would hold and snuggle forever; my husband gently reminds me that I have to start giving space, start letting go, not smother. How is this even possible?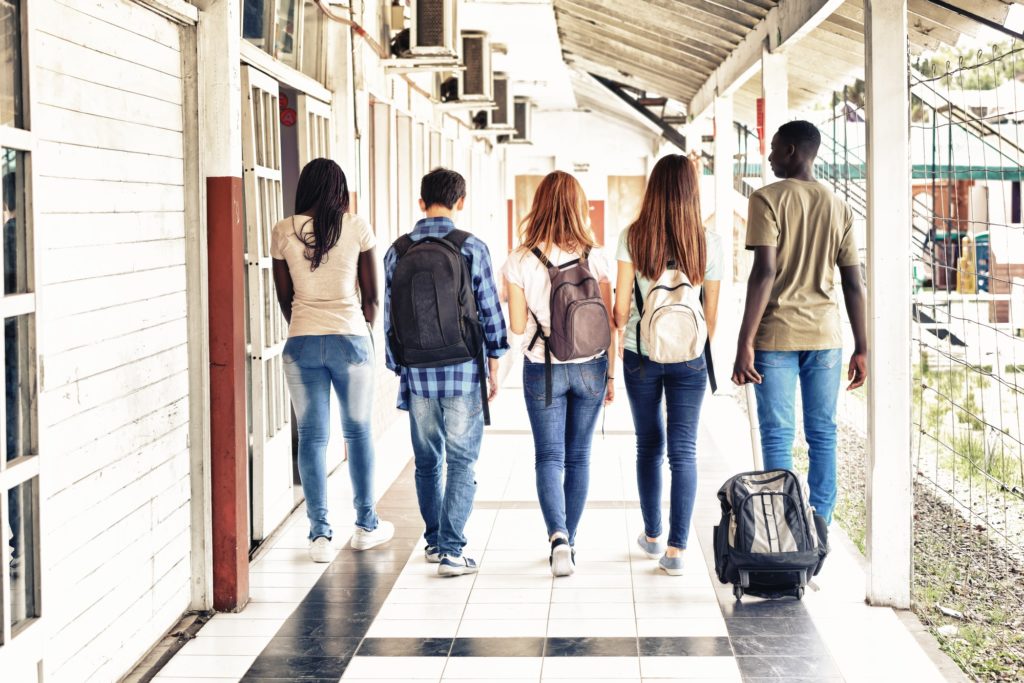 Shifting Phases, Second Time Around
We were blessed with four kids, two sets of each gender, roughly two and a half years between all four of them. Boy, girl, boy, girl. This means that I have large chunks of time between the same phase for each gender. Now, my younger son is at the same age my older son was in fifth grade and having just turned 11. I feel the same emotions again, perhaps with more sadness this time around because I know what lies ahead of me.
As with my oldest son, I can see in my younger son the soon-to-be man yearning inside to come out. I remember the signs and symptoms. I'm not quite as cool as I used to be. We are entering a new phase where I must hold less tightly. It feels hard and I don't want to let go. I want to snuggle indefinitely.
Change is Hard
Selfishly, I don't want things to change. However, mothers have no choice but to embrace change.
One of the craziest things about raising a family is that we adults undergo subtle emotional change, and virtually no physical change, over the many years of child-raising. Meanwhile, our children transform from seven-pound babies who rely on us for exactly everything to ultimately independent adults (or so I'm told). How are we mothers supposed to do this? It does not feel even remotely possible.
These boys are becoming men. It's as if they are both making the jump to lightspeed right before my very eyes.
[bctt tweet="These boys are becoming men. It's as if they are both making the jump to lightspeed right before my very eyes." username="@laurenhhunter"]
I can feel the change, I know it's coming.
Boyhood Transformation, Motherhood Transformation
The transformation from boy to man is certainly a journey, but it happens in subtle shifts along the way.
Instead of going in for the hug goodbye in the school drop-off line, I find other times to hug him. I don't push the questions about how school day was while he's walking with his friends. I make sure not to press him on emotional issues in front of his siblings. I'm learning, albeit slowly. I have made tons of mistakes with the first son that I'm not repeating with the second. Yet, I'll make more for sure. That's just how parenting goes.
In my early 20s, before starting a family, I thought about the children I might have one day. I never guessed how fiercely I would love my boys for their endearing sweetness, for the ways we have bonded, for the joy, for the fun in being silly, loud, and boisterous. I'm honored when one of my sons asks me to throw the football, or play a game, or jump in the pool. I will always provide hugs, walks, deep talks, and advice when asked. I will always require push-ups (and/or extra vegetables) when they burp at the dinner table.
[bctt tweet="The transformation from boy to man is certainly a journey, but it happens in subtle shifts along the way." username="@laurenhhunter"]
As my oldest son gets ready to graduate from high school and go off to college this summer, I pray that he'll take with him his mother's love like a warm blanket to wrap up in when he's cold. I know he will be fine because I've pulled away enough to give him space to grow and to shift into being a responsible, dependable, kind-hearted, wise man at the ripe age of 18. Moreover, I pray that he will trust himself, rely on God and his intuition to make good decisions, and love others just like he's been loved.
As the saying goes, "There has never been, nor will there ever be, anything quite so special as the love between a mother and son" (source unknown).
I'm a better person for having attempted to love my children well and to learn to let them grow out of their need for me.
Lauren Hunter is a writer who loves exploring the big picture of the journey we are all on together. Her career spans more than two decades in public relations, content marketing, freelance writing, and publishing. Lauren lives in Northern California with her husband and their four children. Her latest book is Write Your Journey: A Step-by-Step Guide to Write Your Life Story Fast.