"God bless them," "Bless your heart," "count your blessings," and "#blessings" abound as social platitudes, but what does it really mean to be blessed or to bless someone else? We all want material blessings, but perhaps spiritual blessings that only come from God are the most vital and important to seek as we navigate life's journey. For me, the way the Bible gives me hope and courage is frequently through blessings from the Bible, and so I've put together this list of 10 great blessings from the Bible to share with you.
Miriam Webster's Dictionary defines a blessing as "the act or words of one that blesses," typically by a priest, person of faith, or person in authority. Giving one's blessing can also "offer approval or encouragement," as in asking one's father or mother for blessing a potential marital union.
Table of Contents
Blessing from the Bible in Genesis
Since the beginning of biblical history, blessings have been employed by God as a way to offer guidance to his people. In Genesis 1:28, "God blessed them [Adam and Eve] and God said to them, 'Be fertile and increase, fill the earth and master it."
There are many other blessings, covenants, and promises throughout the Old Testament including Abraham's monumental blessing to be the father of nations. In many cases, God steps in to offer a blessing-promise to wayward followers who are taking their plans into their own hands. To set the person back on course, God intervenes and gives them a blessing bomb – something so big that they would never have even thought of it themselves.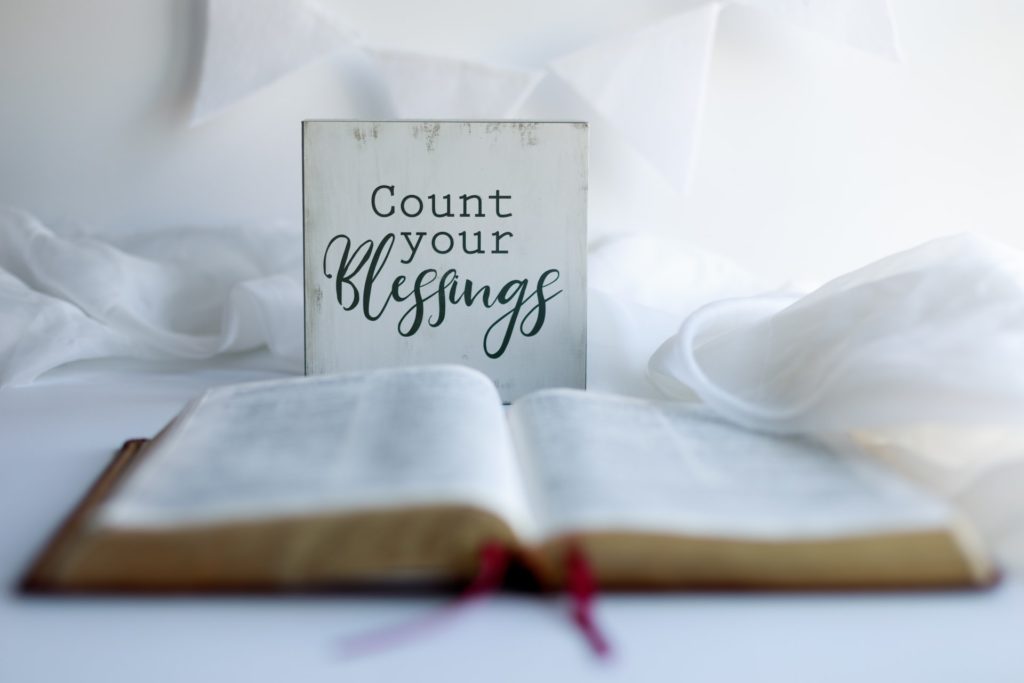 Nuances of the Word, "Blessings"
Behind the word blessing is a nuance that claims above-average expectations. It was true for many in the Bible as well. Abraham wanted one son, instead, God blessed him with "more offspring than there were stars in the sky." When we claim we're #blessed on social media, we use it in a way that confers our cup overflowing and blessings that we didn't plan for, didn't expect, and didn't even intend. And yet, we're blessed, frequently far beyond what we even ask for.
As I read my Bible, typically in the YouVersion Bible App, or the Daily Prayer App, blessing language frequently stops me dead in my tracks. While the Old Testament blessings (usually more of a covenant) typically contained some detailed instructions related to what should be expected after being blessed, the New Testament blessings continue to hit me upside the head because they are so awesome, so over-the-top, so completely settling and calming, I wanted to share with you 10 great blessings from the Bible that have spoken to me personally.
Today, we can apply these biblical blessings for encouragement and strength as we work out our faith and journey with Jesus throughout our Christian walk.
#1 – Be Blessed Forever
God promises his servant, David, a permanent home after years of being on the run from King Saul. With gratitude, David asks God to give his blessing on this gift so that he might be "blessed forever:"
Now therefore may it please you to bless the house of your servant, so that it may continue forever before you. For you, O Lord God, have spoken, and with your blessing shall the house of your servant be blessed forever.

2 Samuel 7:29 ESV
#2 – With One Voice, Glorify God
Paul speaks to the Romans offering them Insight regarding who God is and how they can be of one voice:
May the God of endurance and encouragement grant you to live in such harmony with one another, in accord with Christ Jesus, that together you may with one voice glorify the God and Father of our Lord Jesus Christ.

Romans 15:5 ESV
#3 – Trust in the God of Hope
Paul continues teaching about being a Jew or Gentile no longer mattered in Christ and begs the Romans to stay unified by their trust in God:
May the God of hope fill you with all joy and peace as you trust in him, so that you may overflow with hope by the power of the Holy Spirit.

Romans 15:13 NIV
#4 – Keep Walking in the Ways of God
David on his deathbed to his son, Solomon, gives wisdom and a blessing:
Be strong, be courageous, and keep the charge of the LORD your God, walking in his ways and keeping his statutes, his commandments, his ordinances, and his testimonies, as it is written in the law of Moses, so that you may prosper in all that you do and wherever you turn.

1 Kings 2:2-3
#5 – Grace is With You
Paul urges the Galatians to commit their lives to Jesus Christ and ends his plea: 
Dear brothers, may the grace of our Lord Jesus Christ be with you all.

Galatians 6:18 TLB
#6 – Be Obedient in Faith
Referred to as the "doxology," Paul's blessing at the end of Romans is perhaps one of the most comprehensive blessings:
Now to him who is able to strengthen you according to my gospel and the preaching of Jesus Christ, according to the revelation of the mystery that was kept secret for long ages but has now been disclosed and through the prophetic writings has been made known to all nations, according to the command of the eternal God, to bring about the obedience of faith—to the only wise God be glory forevermore through Jesus Christ! Amen.

Romans 16:25-27 ESV
#7 – The Lord is Gracious
Called the priestly blessing, the Lord blesses Moses and says to tell Aaron and his sons to bless the Israelites in this way:
'The Lord bless you
    and keep you;
the Lord make his face shine on you
    and be gracious to you;
the Lord turn his face toward you
    and give you peace.'

So they will put my name on the Israelites, and I will bless them.

Number 6:24-27 NIV
#8 – Accept Grace and Peace
Paul, perhaps the most prolific blessing giver other than God himself, blesses the Romans, and subsequently, us: 
 ..to all who are loved by God and are called to be his own holy people. May God our Father and the Lord Jesus Christ give you grace and peace.

Romans 1:7 NLT
#9 – Be Blessed with Spiritual Blessings
Paul, the biggest cheerleader for Jesus, encourages the Ephesians to be blessed by all things God sends our way:
Praise be to the God and Father of our Lord Jesus Christ, who has blessed us in the heavenly realms with every spiritual blessing in Christ.

Ephesians 1:3 NIV
#10 – God is in All the Things of Our Lives
Paul provides us with another fabulous blessing to receive:
For from him and through him and for him are all things. To him be the glory forever! Amen.

Romans 11:36 NIV
Perhaps my most favorite part of any church service is when the pastor closes with a blessing, frequently one of these blessings listed here. A typical posture for the pastor is to raise a hand as if to confer the blessing to the people, the congregants can open their hands out at their sides to receive the blessing from the pastor. I find it comforting and very necessary for me to open my hands out to receive God's words and take them into my soul. This moment fills me up in ways I can't quite decipher. I'll close this article with one of my favorite songs, Blessings by Laura Story.
May God bless you with His many blessings.